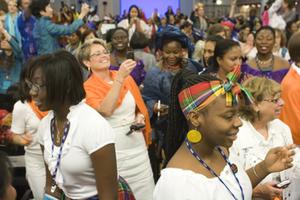 "I just wanted to make a difference and change women's lives. More women need to be empowered, have a voice and be able to stand up for their rights."
Being diagnosed with HIV often leads to social exclusion. Not for Marlyn Cameron. When she was diagnosed in 2010, she took matters into her own hands, and joined the Sunshine Support Group in the Caribbean country of Guyana, a local network that empowers and supports women living with HIV and AIDS. At first, Cameron wanted to seek knowledge on the infection from the group. But, instead, her curiosity and leadership took her one step further — on the first day she joined, she was elected president of the group.
Since then, she has been leading empowerment projects for women living with HIV in different communities in Guyana, said Cameron who was among the participants, including UN Women, at the YWCA World Conference and International Women's Summit in Zurich, Switzerland. Cameron is a member of the Red Cross Society and a board member of the YWCA Guyana, which she is representing at the conference.
Whether she's in Guyana or abroad, Cameron's work with HIV-positive women is multi-faceted. She recognizes that stigma and discrimination are widespread in her country for HIV-positive women, who make up more than half of the population, age 15 and up, living with HIV, according to a 2009 UNAIDS estimate. Stigma often hinders women from disclosing their status to their husband and to access services, making mother to child transmissions more likely. And, that stigma feeds into many more challenges. More than access to services, including medication, malnutrition is another obstacle for HIV-positive women in Guyana.
"In order to take medication, you have to eat well, but since many women don't have enough food, they don't pick up their medication," said Cameron, who works to provide nutritional snacks to them. A joint programme by the YWCA Guyana and the Sunshine Project offers transportation, food, medication, education and training under one roof.
Cameron has also become one of 15 certified Expert Patient Trainers in Guyana. In cooperation with the Pan American Health Organization (PAHO) and upon request by the United Nations, she now trains nurses and other healthcare workers on HIV prevention and how to better respond to the needs of women living with HIV and AIDS. In her courses "Blended Learning for AIDS," she educates through online training, even reaching participants beyond the borders of Guyana, such as a group from Thailand next week.
Much more needs to be done, though, according to Cameron. "Funding is the biggest challenge for us," she said. "We need to get the government more involved."
At the moment, she is looking for resources to buy sewing machines. Her next step will be to teach HIV-positive women how to sew, to improve their economic opportunities and give them access to the market — nearby hospitals that buy sheets and pillowcases.
While she looks to the government for more support, it is at home where she finds the drive she needs to push forward. A mother of seven children, Cameron gets her energy from her family. "My 12-year-old son said, 'If you die I have to die, too.' So I have to live, so he can live."
UN Women conducted this interview at the YWCA World Conference and International Women's Summit in Zurich, Switzerland. At the event, UN Women Executive Director Michelle Bachelet was a speaker at the opening session. Read full article on UN Women's website here.
Photograph taken by the YWCA World Conference and International Women's Summit of the opening ceremonies. Read more about the conference here.