Longtime Rising Voices grantee Repacted from Nakuru, Kenya continues its work in surrounding communities using magnet theater as a way to engage the community, and youth especially, through dramatic interpretations that present real-life situations involving health issues such as HIV/AIDS and TB. The members of the Repacted team showcase their role-playing abilities in order to provide awareness and education to the community, but also to demonstrate how one would go about making critical life decisions to prevent these health issues.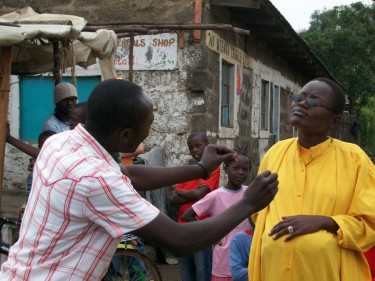 One of these team members, Maurine, was recently recognized for her work on the Repacted project blog for being "one of the foremost HIV activists in our town Nakuru and its environs." Nearly seven years ago in 2004, Maurine contracted the virus, and after receiving this information, she saw it as an opportunity to educate others. She was interviewed by Repacted to tell her story of how she learned about her status. Her story was featured in this blog post, when she took the test at a local clinic after a lengthy illness.  
Read more about Maurine's empowering story by Eddie Avila at the Rising Voices' Blogging Positively website here.